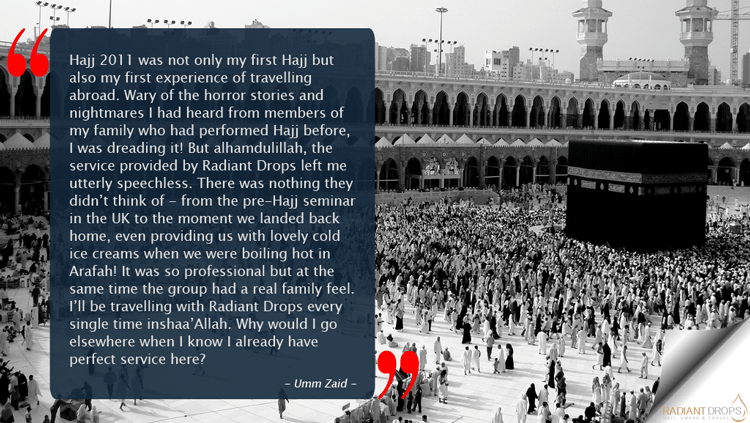 The transport and the hotels in both makkah and medina were wonderful! You really did make our first (of we hope many) trips extremely memorable!
It was the best experience of my life… JazakAllahu khair for all your help and the service we received definitely exceeded our expectations. I pray that Allah accepts our umrah and forgive our sins….Ameen
I really enjoyed every minute of it and thank you for providing the best accommodation and the closest locations. Everything went smoothly with flights and baggage. Alhamduillah now back to the daily UK life.
I cannot rate this company highly enough. From the first contact, they have been very friendly and helpful with any questions and requests. I would highly recommend them to anybody as they were so easy to deal with, honest and very professional.
Alhamdulilah the overall experience was amazing, we both enjoyed it a lot and would love to go back. Jazak'Allah khair for helping us to make this journey happen. May Allah reward you for your hard work in helping so many people to perform their pilgrimage and May Allah answer your du'as and give you what's best for you Ameen.
A huge thank you to Radiant drops for their amazing service.. It was our first experience of performing umrah, our advisor was very supportive in solving all of our concerns and preparing us for our journey… We had a very comfortable stay without any problems. If you are also looking for a memorable experience of Hajj/Umrah without any hassle or worries, then I would highly recommend Radiant drops. We certainly will be going with them for many more amazing memories.
The dream became a reality. May Allah accept it from us and you!